Exclusive rights for A-Tacs® FG Camo pattern
We understand the perspectives of A-TACS® Foliage Green camouflage use for the Russian special forces. We are in such conditions now that we need to reduce the amount of imported products. In 2016 company SpecVoenProm signed an exclusive distribution agreement with DCS (the previous owner of the genuine A-TACS® FG CAMO pattern). Later DCS assigned the exclusive rights to the A-TACS® FG CAMO pattern and grant the non-exclusive license to A-TACS® and A-TACS CAMO® trademarks to Specvoenprom (Russian TM Regs.##612354, 612355). Today SpecVoenProm is the sole owner of the copyright for A-TACS® FG CAMO pattern in the entire world. This gives us the right not only to manufacture fabrics and other products in A-TACS® FG pattern, we also can develop other camouflage types on its basis.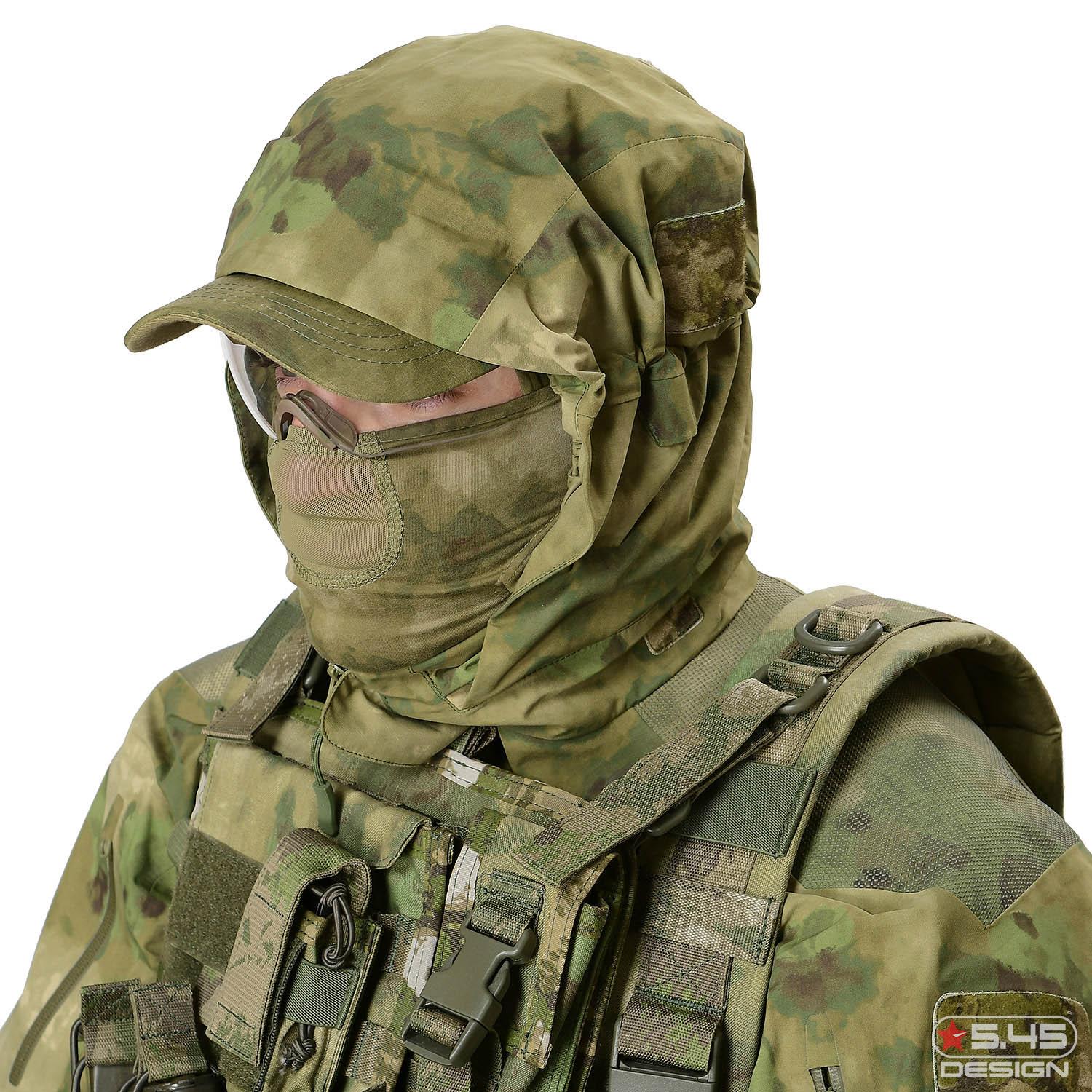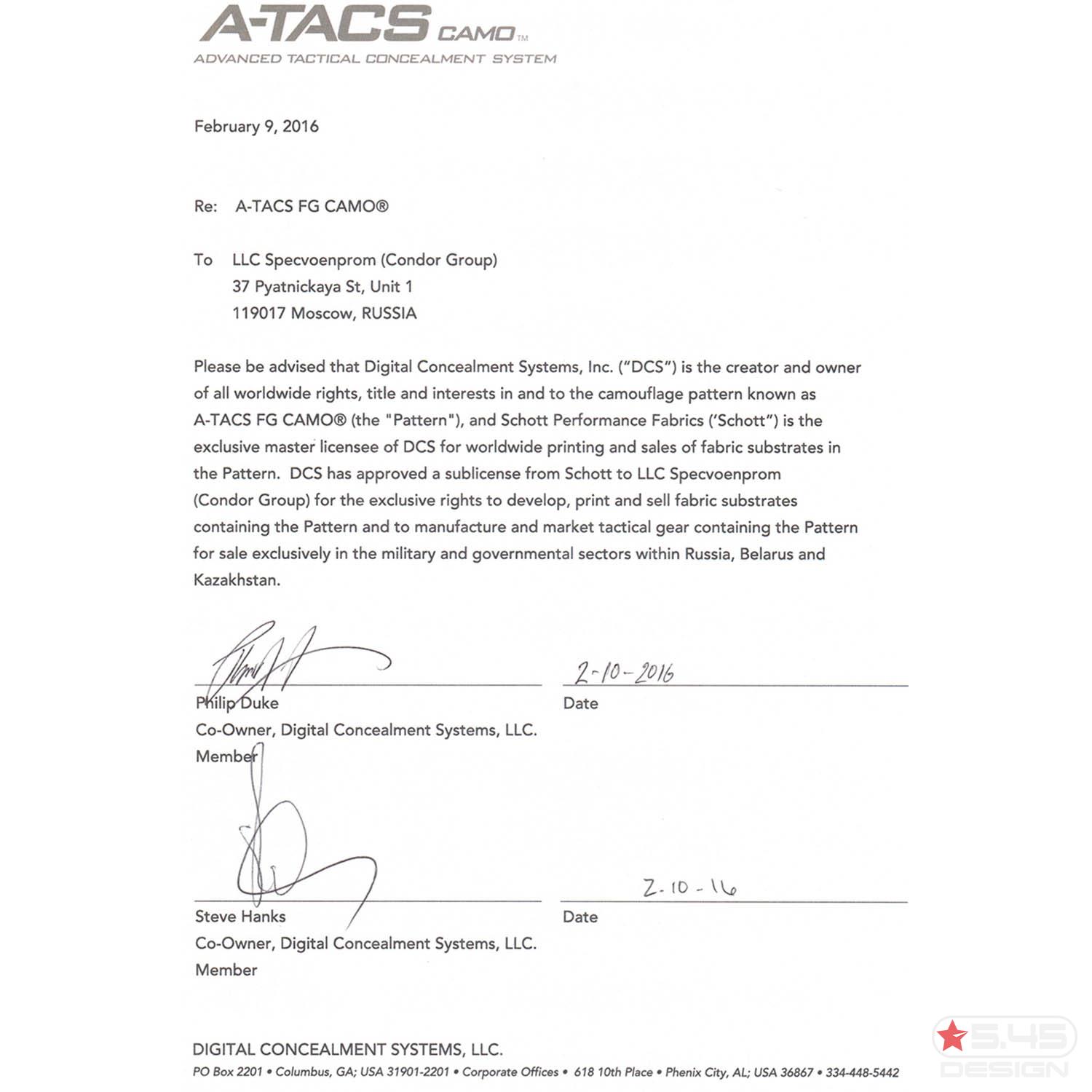 We already manufacture fabrics in all the A-TACS® CAMO® patterns. We have also widened the range of materials in genuine A-TACS® Foliage Green pattern. We have Cordura 330, 500 and 1000D, Rip-Stop 50/50, 100% Jersey, 70D Rip-Stop, Mesh, Velcro and straps in the aforementioned camouflage pattern available.
If you really want to remain unnoticed during the tactical missions in forest or another green terrain, A-TACS® FG is your best choice. This camouflage pattern is internationally appraised and widely used by real professionals which is the best efficiency index.
Tested by employees of special units of Russia
in combat conditions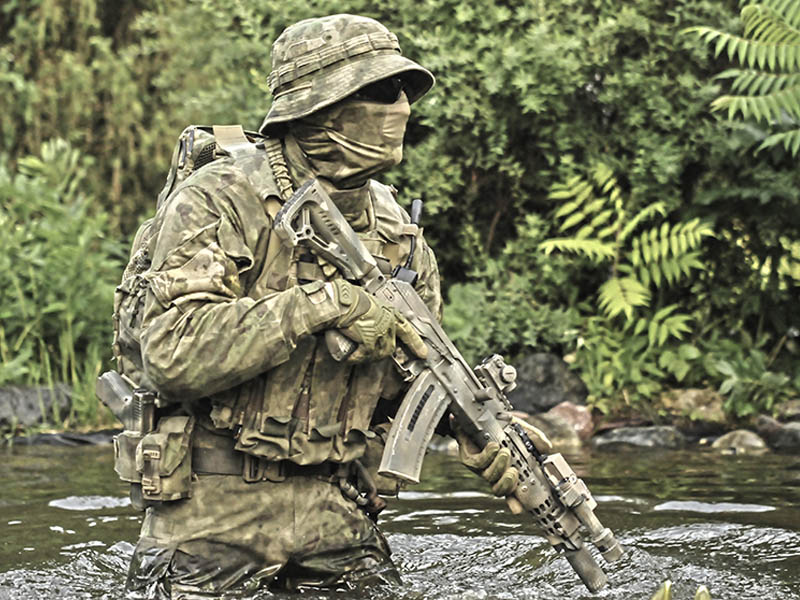 Thanks to constant contact with the leading special forces of Russia, Belarus, Kazakhstan and other countries, we were able to determine the concept of a system of equipment, military uniforms and equipment, in which all individual elements are part of the general and, complementing each other, significantly increase the effectiveness of the entire set and the effectiveness of the actions of the final user.
Russian equipment and equipment 5.45 Design receives the highest marks from military specialists, which means that we are on the right path and the desire to develop and produce the best in us is only getting stronger.