"Courier" Shoulder Bag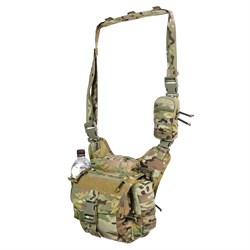 Courier Tactical Shoulder Bag by 5.45 DESIGN is designed as a universal EDC (Every Day Carry) item and proved to be a multifunctional thing! This product is a must-have for professionals, as well as for fans of military tactical games, tourists and people with an active lifestyle. The strap is designed in such a way that it allows you to comfortably carry the bag in several alternative ways. The shoulder strap is attached to the main compartment with two Fastex buckles. This is very convenient and allows you to put the bag on and off NOT over your head and when necessary - quickly drop it. You will not rub your neck and shoulders when wearing it in any way, thanks to the padded damping inserts on the strap. The free end of the strap is held by an elastic loop - therefore, it will not interfere with the dynamics. In addition, you can adjust the volume of the main compartment.
The bag is made of highly durable and abrasion-resistant CORDURA-500D IR-remissive fabric.
Access to the main compartment is closed by a Fastex buckle flap. The flap is also equipped with VELCRO panels for identification patches and pads. In addition, there is also a pocket on the flap itself. The compartment itself is zippered. The bag is equipped with YKK fittings. The main compartment is additionally retractable with a sleeve, so that all contents are additionally protected.
On the outside of the main compartment there is a zippered pocket with mesh inside for small items. Inside the main compartment there is also a mesh inserted to keep the contents from migrating during movement.
The inside of the bag features Air Mesh fabric, which provides ventilation while preventing the contents from rubbing against the bag. There is also a riveted loop sewn into the bag body for attaching to a belt, if necessary.
A sub-bag with MOLLE surface mounts is integrated to the belt, which allows you to install additional elements. It can hold a radio, first aid kit and other items that require quick access. There is a two-way zipper with puller locks that can be easily used in gloves and in limited visibility conditions.
An open pocket is sewn on one side of the main compartment. Its volume is adjustable with a sling, which is also designed to hold a bottle or other items.
On the other side of the main compartment there is also an integrated pouch, similar to the shoulder strap pouch, with MOLLE surface mounts.