"Heat" Tactical shirt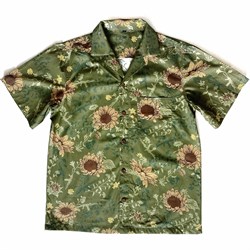 The "Heat" 5.45 DESIGN shirt is designed for use in summer at high temperatures. It is made of 100% cotton, thanks to which it is tactilely pleasant and breathes perfectly. The cut is similar to a traditional Hawaiian shirt. The open gate provides excellent air circulation.
The shirt closes with five buttons, stylized as a tree. On the left side of the chest there is a pocket in which small items can be placed. The sleeves have a length up to the middle of the shoulder. At the bottom of the left shelf of the shirt there is a special pad designed for wiping glasses. The loose cut of the shirt contributes to the unobtrusive use of a pistol holster.
The special design of the pattern applied to the fabric will be interesting to fans of the military style, as it has an image of various types of weapons interspersed with the image of sunflowers. The color scheme is designed in natural shades. The "Heat" shirt will be an excellent type of clothing both during summer holidays and for performing tactical tasks in conditions of a large crowd of people.