"Panacea Type-A" Protective Mask
"Panacea Type-A" Protective Mask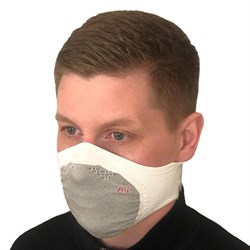 "Panacea Type-A" Protective Mask
Protective mask for individual multiple use. Helps to protect from viruses and bacteria, as the central area of the mask is woven of X-Static® threads with high silver contents. Mask design ensures neat fit on the user face. *
* type A – Mask hook and loop fasteners are made from soft and pleasant to the touch velour, they ensure secure fit on the face and comfortable wear during long hours.
* type B – Soft elastic cord loops on the sides of the mask go over user's ears.
Mask can be used multiple times; it doesn't lose its' qualities after many washing cycles.
Method of use:
1. Get the mask out of the package.
2. Position it on the face in a way so "Ag+" logo is against upper part of left cheek.
3. Type А: Fasten hook and loop on the neck.
Type B: Depress the cord clamp lock and draw the elastic cord to a comfortable tension. Release cord clamp lock to keep the elastic cord in position. To remove simply depress the elastic cord clamp lock and pull gently on the cords in the opposite direction.
Care:
keep away from direct sunligh
wash at 60°С
do not wash with hard hook and loop fasteners
dry at room temperature
Composition:
Mask:
Polyamide - 75 %
Metallized polyamide (silver) – 10%
Elastane – 15 %
Hook and loop fasteners:
type А - 100% polyester
type B - 80% elastic rubber threads, 20% polyester
---
"Panacea" Mask is officially certified. As you can see it shows that our mask can be compared to N95. At this time the test was done in Asia, but an American certificate is coming up early next year. Сontrol values in below chart. The results look great!
| | | |
| --- | --- | --- |
| HCOV 229E | Treated | Control |
| 10 МIN | 98,77 | 38,34 |
| 30 МIN | 98,99 | 32,39 |
| 1 HOUR | 99,09 | 27,56 |
| 2 HOUR | 99,29 | 24,14 |