"Sarmat" Poncho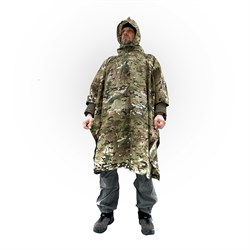 The "Sarmat" Poncho was designed as a versatile protection from precipitation. It is made of 100% waterproof nylon fabric. The poncho's design is a rectangular 4.9 x 6.5 ft sheet with a central hole for the head and attached hood. To adjust the size of the hood to fit the head, the front has a drawstring and stopper. There are eight metal grommets located around the perimeter to thread the cord and stretch the poncho between trees, creating a shelter. There are buttons on the side that allow the poncho to be worn as a trench coat and joined with another poncho to form a larger tent (6.5 x 9.8 ft). On the inner part of the waist area, there are two loops with a cord to gather the poncho to avoid excess bulk. The ways to use the poncho are varied. Firstly, it can be worn over clothing and gear during heavy rainfall. Secondly, it can be used as an individual shelter for overnight stays. Thirdly, users can use the poncho as a survival tool in crossing water obstacles, transporting goods, evacuating the wounded, and more.
Key Features:
Dimensions: 4.9 x 6.5 ft
When folded: 7.1 x 10.6 in
Weight: 1.28 pounds
Integrated hood.
Drawstring and stopper on the hood.
Eight grommets around the perimeter.
Loops with cord at the waist.
Fabric composition, materials: